Improved security allows British troops to close Afghan base
The transition of security responsibilities from British to Afghan forces has taken a big step forward, with the closure of a UK-run checkpoint.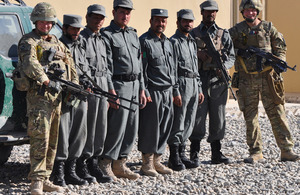 Checkpoint Tapa Paraang once played an essential role in maintaining security and stability in the northern Bolan area of Lashkar Gah district. But a radically improved security situation and an increasing return to normality in the area has now enabled the military base to be closed.
Instead of troops from The Royal Highland Fusiliers, 2nd Battalion The Royal Regiment of Scotland (2 SCOTS), patrolling the streets of this area, total security responsibility has now been handed over to British-trained members of the Afghan National Police.
Checkpoint Tapa Paraang is the second checkpoint to be closed by 2 SCOTS in the space of a month and it is expected that more closures will follow.
In an effort to boost the local economy, the work to dismantle the checkpoint structures has been contracted to a local firm. Once their work is complete, the previously existing compounds will be returned to their original state and handed back to their previous owners.
Major Tristan Winfield, Officer Commanding B Company, 2 SCOTS, whose men ran Checkpoint Tapa Paraang, said:
Important work was done from this checkpoint, work which had a big positive impact on the lives of people living in the area. But with the increased level of security that is now being provided by Afghan forces here, there is no need to keep it open.
The Afghan National Police [ANP] in the Bolan district are extremely competent and able to provide security for the local people. Under the direction of the local commander, Major Israel, order is maintained and insurgent activity is tackled.
It is good that the ANP have reached a level of skill and competence that allows them to operate independently. We are moving irreversibly toward an Afghan-led solution to the problems of Afghanistan.
Earlier this month, Helmand's Police Training Centre reached a major milestone, with the graduation of its 2,000th recruit. There are currently around 116,000 fully-trained Afghan National Police in Afghanistan and the aim is to reach a target of 134,000 by the end of 2011.
Published 17 January 2011