Press release
Important milestone for critical probation reforms
A further step towards the Government's reforms to rehabilitation has been announced today as probation trusts were informed that staff will be assigned to one of the new organisations responsible for managing offenders and tackling our shockingly high reoffending rates by 1 April.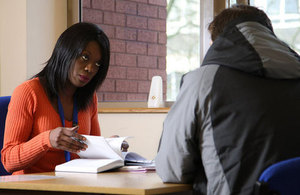 Notice has now been given that probation trust contracts will be closed down by 31 May this year, as plans have been finalised for the transfer to new arrangements.
It is expected that probation staff will be working in their new teams by the start of April, with some teams in place as early as February.
The new ways of working will then be fully tested and systems rolled out ready for the formal transfer.
The new system will see current probation officers transferred to one of the new Community Rehabilitation Companies that will work to rehabilitate low and medium risk offenders, or the new National Probation Service that will be tasked with protecting the public from the most dangerous criminals.
More than half a million crimes are committed each year across England and Wales by those who have already broken the law and our reforms are aimed at finally tackling these unacceptable reoffending rates that see more needless victims created every day.
Justice Minister Jeremy Wright said:
"These reforms will finally address the glaring gap in our system that currently sees around 50,000 short-term prisoners released onto the streets each year with no support, unchecked, to go back to their criminal ways.
"We have always been clear that these thorough plans will be rolled out in a controlled way that ensures public safety at every stage.
"We will continue to engage with all relevant parties as these reforms are introduced to ensure a smooth transition."
Testing of new systems has already begun and will continue until the transfer to new arrangements.
A key element of the programme will see a nationwide network of resettlement prisons created so nearly all offenders are released into the area in which they will live and be supervised.
Our new approach will see providers only paid in full if they are successful at reducing reoffending, making hard-working tax-payers' money go further and ensuring all sentences deliver both punishment and rehabilitation.
We expect successful bidders to be in place and delivering services by 2015.
Notes to editors:
View information on our Transforming Rehabilitation reforms

For further information please contact the Ministry of Justice press office on 020 3334 3536.
Published 17 January 2014