Important Changes To The UK Visa Service
FedEx to Operate new UK Visa Application Centre in Kinshasa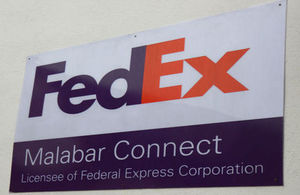 From 27 March 2014, applications for UK visas should no longer be taken to the British Embassy. They should instead be taken to a new Visa Application Centre operated by Fedex, the Embassy's commercial partner, located at 491 Avenue Colonel Mondjiba, Kinshasa.
Opening hours will be Monday to Friday, from 08h00 to 15h00.
In addition to the visa charges, User Pay charges have been introduced, which are set at a global rate of £59.00 (approximately 100 USD).
The new service will facilitate a more streamlined process, enabling applications to be transferred more quickly and efficiently between the Visa Application Centre and the decision making hub in Nairobi.
Visas for diplomats and officials for official visits will still be cost-free. Diplomats and Officials will not need to attend the Visa Application Centre in person, as they will continue to be exempt from submitting biometrics or paying the Visa Application fee or User Pay charges.
The Embassy is aware that in certain circumstances, there will need to be a quick response when diplomats and officials need to travel at short notice. The Visa Application Centre and UK Visas International will continue to provide this flexibility where it is required. The Embassy will continue to support, as necessary.
Once the UK Visa Application is submitted in Kinshasa, the completed applications, which will include all supporting documentation and the customer's passport, will be forwarded to the decision making centre in Nairobi by commercial courier, where they will be considered by entry clearance staff.
Decisions will then be returned to the Visa Application Centre, unless otherwise agreed with the customer (who may otherwise opt to have the decision returned to an address of their choice). The target times to process visas will remain unchanged and Visa Application Centre staff will continue to play no part in the decision making process.
The privatisation of the visa service aims to fulfil three objectives. It will increase the number of application points globally, and ensure retention of a visa service in countries with low numbers of visa applications. It will offer improved customer services, including increased access to premium and priority services. And it will deliver efficiencies in the visa application process.
Published 21 March 2014