News story
Immigration: building a more sustainable system
Immigration and Security Minister James Brokenshire has given his first speech on immigration.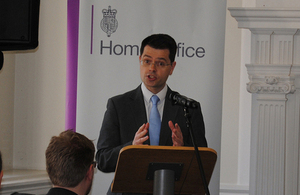 The speech was made at the think-tank Demos in London today (Thursday 6 March). He talked about why controlling immigration is so important and how the government will work to bring down immigration further.
Immigration and Security minister James Brokenshire said:
The government wants to reduce net migration to sustainable levels and it remains our aim to reduce it to the tens of thousands.

In no year since 1998 has net migration been below 140,000. And in no year prior to 1998 was it higher than 80,000. Our challenge is to create a sustainable migration system which benefits our country and doesn't see foreign labour as a cheap commodity for low-skilled work.

The government's drive to reduce immigration has never been simply an economic one. Uncontrolled mass immigration can force wages down and house prices up and put pressure on social cohesion and public services. And let me be clear — it can also cause displacement in the labour market.
Published 6 March 2014