Paterson declares IMC's work complete
The Secretary of State announced that the work of the Independent Monitoring Commission will be coming to a close.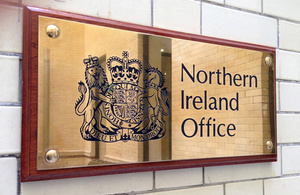 Speaking today as he published the IMC's 25th report, the Secretary of State Owen Paterson MP announced his intention to bring the work of the Independent Monitoring Commission (IMC) to a close.
The IMC was established to help in the process of making the transition in Northern Ireland to a peaceful society and stable, inclusive devolved government. The IMC have played a crucial part in supporting and enabling the historic changes that we have seen in Northern Ireland over nearly 20 years.
Although there remain those who have rejected peace and politics and who actively work to undermine it, Northern Ireland has made the transition to stable, local democracy and the job of the IMC is nearing completion. The IMC has consistently assessed that, with the exception of some residual terrorist groups, the leaderships of paramilitary groups remain committed to the political process and to transforming their organisations.
The IMC have commented in previous reports on the 'implications for the continuation of the IMC of the peace process drawing to a close and more normal arrangements for security and the administration of justice taking over, since we have had the devolution of policing and justice'.
The British and Irish governments have, therefore, asked the IMC to prepare one more final report on their work, including lessons learned. After that, we will bring the IMC arrangements to an end. I would like to place on record my thanks to the IMC for their work and their contribution to the developments that have taken place over the last six years.
There is a continuing public interest in ensuring that the public are informed about the threat in Northern Ireland from terrorism. Once we have received and considered the IMC's final report, the British and Irish Governments will do what is necessary to ensure that that need is met.
Published 4 November 2010