Press release
Imam who sexually abused student has sentence increased
Mohammed Ghani has had his sentence increased following a hearing at the Court of Appeal.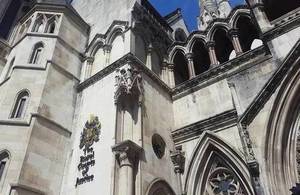 An imam who sexually assaulted a young child over a period of 7 years had his sentence increased today after it was referred to the Court of Appeal by the Solicitor General, Robert Buckland QC MP, under the Unduly Lenient Sentence scheme.
Mohammed Ghani, 65, was a respected imam in the local community who used professional visits to the victim's home as an opportunity to carry out a campaign of sexual abuse. This resulted in lasting emotional repercussions for the victim.
Ghani was sentenced at Leeds Crown Court in August, where he was given 2 years imprisonment. Today, after the Solicitor General's referral, the Court of Appeal increased his sentence to 5 years imprisonment.
Speaking after the hearing, the Solicitor General said:
"Ghani abused his position of authority and subjected a vulnerable child to a campaign of sexual assaults. I hope that the Court of Appeal's decision today brings the victim and their family some comfort."
Published 30 October 2018