'I'm in love with the forest now - I want to protect it'
From illegal loggers to community rangers in Indonesia.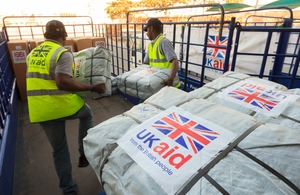 Photojournalist Abbie Trayler Smith visits UKaid funded projects in Aceh's Ulu Masen rainforest.
"I don't know how many trees I cut down. Hundreds. Thousands? I don't know… If there is no training like this, the forest will be destroyed in about 15 years. Gone." - Muktar, aged 44, ex-illlegal logger.
Award winning photojournalist Abbie Trayler-Smith, who covered the 2004 tsunami in Indonesia, returned to Aceh as part of a DFID funded project to see how people there are rebuilding their lives and livelihoods.
The 3.3 million hectare Ulu Masen forest, in the northern part of Aceh province, is part of the largest contiguous forested area in South East Asia. But it has been at risk from illegal logging, and the area plagued by conflict, for many years. However, in the aftermath of the 2004 tsunami, a peace agreement was reached between the government of Indonesia and the Aceh separatist movement. This has helped the province to begin the long process of recovery from both conflict and natural disaster.
The NGO Fauna and Flora International is now working in Aceh province to establish a number of Conservation Response Units on the edge of the Ulu Masen forest. The CRUs are responsible for training rangers, (often young men recruited from local villages, many of whom have been involved in illegal logging in the past). They are also working to help community members understand how to best protect the forest whilst providing economic benefits and and livelihood opportunities to local communities.
The scheme is part of the Aceh Forest and Environment Project, a World Bank program supported by UKaid from the Department for International Development, which aims to protect the Leuser and Ulu Masen forest ecosystems from illegal logging. The forest is seen as a potentially rich provider of environmental and economic benefits for the 2 million people living in Aceh.
The Governor of Aceh has promoted a 'green agenda' for the province as part of the reconstruction process following the 2004 tsunami. The project, which is funded with $17.53 million from the World Bank's Multi Donor Fund, co-operates with the government to integrate environmental conservation concerns into the reconstruction process. DFID is the third largest contributor to the Multi Donor Fund.
A rapid reduction in deforestation is needed to avoid dangerous global warming exceeding 2°C.
DFID is working to tackle illegal logging and improve forestry management in ten developing countries around the world, through projects such as this.
Published 8 July 2010