News story
Identity and Passport Service warns: don't rubbish your passport!
More than 10,000 people a year accidentally throw their passports out with the rubbish, according to new figures released today by the Identity and Passport Service (IPS).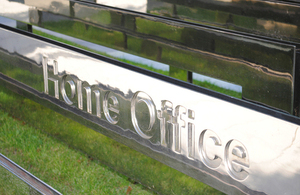 The research also shows a 60:40 split between genders when it comes to replacing lost and stolen passports, with more than 162,500 passports replaced each year by men compared to around 112,000 by women.
Around 40 per cent (110,000) of the passports replaced each year belong to people in their twenties, with approximately 10,000 of those lost while on a night out in a bar or club.
The more unusual reasons given for losing a passport included:
taxi attacked by gunman on way to airport (Brazil)
placed on a fire with clothes
lost while in prison
put in bin by infant daughter
drunk boyfriend (now ex) destroyed it
fell out of bag while snowboarding on a mountain
last seen in the pocket of a coat donated to tramp
wallet was stolen at a children's party with passports inside
passports were stored in safe - thieves stole safe from villa (Turkey)
Sarah Rapson, chief executive of the Identity and Passport Service, said:
'Your passport is not only increasingly attractive to fraudsters, but it will cost you at least £77.50 to replace, so it's really important that you keep it safe both when you are at home and when you're abroad.
'There are four simple steps anyone can take to keep their passport safe and avoid losing it:
keep it in a safe place at home… and in a place you can remember
only carry your passport when it is absolutely necessary
use alternatives to your passport if you need to prove your age
lock your passport away in a secure location when abroad
if it's in a safe, make sure the safe is fixed securely to the wall
'Remember to put your passport away after use. Don't leave it in a trouser or shirt pocket in the laundry pile.'
'Finally, if you are unlucky and your passport is lost or stolen, keeping a note of the passport number will help us identify your record and issue a replacement as quickly as possible.'
For information on what IPS can do for you if you have lost your passport, please visit the Directgov website.
Notes to editors
1. The Identity and Passport Service (IPS) is an executive agency of the Home Office, providing passports for British citizens and passport validation services.
2. IPS replaced 272,963 passports that were reported lost, stolen or damaged in 2009, the latest period for which figures are available.
3. All figures are based on a random sample of 509 lost passport forms.
4. For further information on what to do if your passport has been lost or stolen in the UK, visit the Directgov website or call the advice line on 0300 222 0000.
Published 22 April 2011