Press release
IDAHOBIT Day statement from Baroness Anelay
Baroness Anelay announces funding for LGB&T projects on International Day Against Homophobia, Biphobia and Transphobia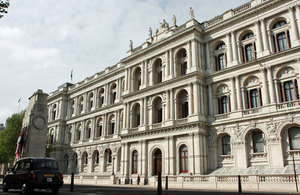 On the International Day Against Homophobia, Biphobia and Transphobia, FCO Minister for Human Rights, Baroness Anelay, said:
I am proud that the UK continues to be a leading voice in global efforts to promote and protect the rights of Lesbian, Gay, Bisexual and Transgender (LGB&T) people around the world. Each of our Ambassadors, High Commissioners – and indeed all British diplomats – work as envoys on this issue.

The British Government firmly believes that human rights are universal and should apply equally to all people, as enshrined in Article 1 of the Universal Declaration of Human Rights.

The shocking reality is that in many places, LGB&T people continue to suffer discrimination, violence and even death, simply because of who they are, or whom they love. In 75 countries there are laws that criminalise private, consensual sexual relations between adults of the same sex. Many others offer LGB&T people little or no protection from discrimination in the workplace or in the provision of goods and services.

This is incompatible with international human rights laws, including the International Covenant on Civil and Political Rights. It is also wrong and counterproductive. The strongest, safest and most prosperous societies are those that value diversity and strive to address all forms of discrimination against all people, including on the basis of sexual orientation or gender identity.

On International Day Against Homophobia, Biphobia and Transphobia (IDAHOBIT), I am delighted to be able to announce that in 2016/17, the FCO will dedicate approximately £900,000 of the Magna Carta Fund for Human Rights and Democracy to projects working with LGB&T communities around the world. These projects aim to: improve institutional protection against discrimination; remove or amend discriminatory laws, policies and practices; reduce hate speech, violence or harassment based on discrimination; and increase the participation of LGB&T communities in their societies.
Further information
Published 17 May 2016