Press release
Ian McLoughlin unduly lenient sentence case
Statement and background to the case at the Court of Appeal today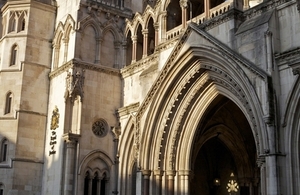 In November last year, the Attorney General, Dominic Grieve QC MP referred the sentence of Ian McLoughlin to the Court of Appeal under the unduly lenient sentence scheme. The reference took place today in front of the Lord Chief Justice, Sir Brian Leveson, Lady Justice Hallett, Lord Justice Treacy and Mr Justice Burnett. Judgment was reserved, so will be given at a later date.
Speaking after the hearing, the Attorney General, Dominic Grieve QC MP said:
This hearing was about preserving the principle that whole life orders can be imposed for particularly heinous and serious crimes.

I asked the Court of Appeal to look again at the sentence handed down to Ian McLoughlin as I believed the sentencing judge mistakenly took into account a decision of the European Court of Human Rights which is inconsistent with the domestic legislation and case law by which he was bound.

I believed the seriousness of this case required a whole life order because McLoughlin had a previous conviction for manslaughter in 1984, a conviction for murder in 1992, and because the murder for which he was being sentenced was committed in the course of robbery.
Notes to editors
As judgment was reserved in this case, the Attorney will not be accepting bids for interviews today.

Media enquiries: 020 7271 2465
Published 24 January 2014