IAEA Director visits the UK
IAEA Director General Yukiya Amano visited the UK between 15-17 October to discuss nuclear issues.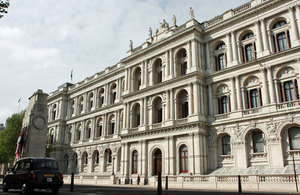 Yukiya Amano, the Director General of the International Atomic Energy Agency (IAEA), visited the UK between 15-17 October. During his visit Mr Amano met Foreign Secretary William Hague, FCO Minister for Counter Proliferation Alistair Burt and Baroness Verma, Minister at the Department of Energy and Climate Change.
The meetings covered the work of the IAEA; nuclear programmes of concern; the UK's plans for nuclear new build and IAEA safeguards. Mr Amano also addressed a Chatham House event on future prospects for nuclear energy.
Speaking following his meeting with the Director General, the Foreign Secretary said:
"I welcomed the opportunity to exchange views with Mr Amano on a number of important matters. The IAEA plays a crucial role on issues ranging from nuclear non-proliferation and nuclear safety, to global development.
"The UK continues to fully support the role of the Agency in addressing challenges to the non-proliferation regime, in particular the Iranian nuclear programme. I commend the leadership of Mr Amano on this issue. It remains imperative that Iran co-operates immediately and fully with the IAEA".
The IAEA works with its Member States and multiple partners worldwide to promote safe, secure and peaceful nuclear technologies. Its safeguards regime is an essential component of international nuclear non-proliferation efforts and the objectives of the Non-Proliferation Treaty.
The UK is a member of the IAEA Board of Governors. We and other member states are working with Director General Amano and the Agency on a range of issues, including addressing nuclear programmes of concern, nuclear safety, and ensuring robust implementation of safeguards agreements.
Published 17 October 2012