Hunt hails 'world class' Olympic build as UK business gears up for 2012
Culture Secretary Jeremy Hunt has said the Olympic Park will stand as "the best possible advertisement for UK plc" in 2012.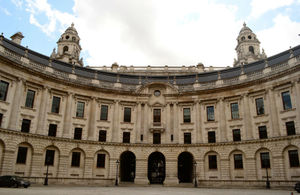 Speaking at a 'Big Build' reception to celebrate the Olympic construction project, Culture Secretary Jeremy Hunt has said the Olympic Park will stand as "the best possible advertisement for UK plc" in 2012.
The celebratory event brought together around 100 chief executives from across the construction industry along with senior figures from the Olympic Delivery Authority, which led the building work on behalf of the UK Government.
All five major sports venues on the Park have now been completed on time and on budget, with the last, Zaha Hadid's distinctive Aquatics Centre, being handed over to LOCOG in July.
Mr Hunt praised their achievements as 'unbelievable', adding that the Olympic programme would change the way people viewed UK construction for good, helping British firms to win more high profile contracts in future:
"For me, the Olympic Park is the first world class performance of 2012. It gives us the best possible backdrop for next summer's Games, and I'm proud to say it has 'Made in Britain' stamped all over it," he said.
"This whole project is a tremendous calling card for UK industry, showing the world what we're capable of - and we're determined to make the most of it in the years ahead."
The project saw 98% of contracts being fulfilled by UK companies, and featured:
The biggest demolition programme in Europe, more than 220 buildings were knocked down, with the rubble painstakingly sorted, processed and reused in one of the biggest recycling operations

The most extensive tunnelling operation undertaken since the Channel Tunnel, in order to remove 50 electricity pylons across the site, two six kilometre tunnels had to be dug to store 200 kilometres of electrical cables

The most ambitious soil clean-up operation ever seen in the UK - with 2.3 m cubic metres of soil excavated, and around 85 per cent successfully cleared of industrial pollutants (primarily arsenic and lead) and re-used on-site;

The largest urban park created in Europe for 150 years, the innovative landscape design will include more than 4,000 trees, 74,000 plants, 60,000 bulbs and 300,000 wetland plants
In September, the UK Prime Minister David Cameron announced the "Great" campaign to promote the UK as a tourism and business destination ahead of the Games.
There will also be a global investment conference for international investors and business leaders on the eve of the Games, and an innovative programme of business summits and networking opportunities, including the 'British Business Embassy' and an online 'British Business Club'.
Together this is expected to generate a £1 billion boost for British business in the years ahead.
Notes to Editors
Olympic Park Venues: the key facts and statistics
The Olympic Stadium's structure contains around 10,000 tonnes of steel - making it the lightest Olympic Stadium to date. The Government is committed to the stadium remaining a multi-use sports centre with athletics at its heart after the Games.

Zaha Hadid's Aquatics Centre consists of a 160 m-long wave-shaped steel roof, 80 m at its widest point, weighs over 3,000 tonnes, and is covered with 11,715 square metres aluminium. A ground-breaking tripod structure supports the roof, so that spectator views are not spoilt by standing pillars.

The Velodrome's curved steel structure made up of more than 2,500 sections of steelwork, with a net roof featuring 16km of cabling and covering 5,000 sq m. The unique 'tennis-racket'-style meshing cut the amount of steel required by a third. The velodrome was shortlisted for the Stirling Prize and won the Prime Minister's Better Public Building Award.

The Handball Arena's structure features 30 10-metre high concrete walls, sitting on top of 300 tonnes of concrete, plus a 1000 tonne steel frame; it is covered in 3,000 square metres of mostly recycled copper.

At 35 metre high, the Basketball Arena is as tall as the Tate Modern. It is one of the largest temporary venues ever built, and features a 1,000 tonne steel frame  wrapped in 20,000sq m of fabric.

The Olympic Village comprises of 62 residential buildings - providing accommodation for around 17,000 athletes and officials, and nearly 3,000 new homes after the Games. There will also be a four-storey Polyclinic, a new Academy for 1,800 students and more than 10 hectares of new parks and open space.

IBC/MPC will support around 20,000 broadcasters, photographers and journalists - leaving a legacy of 900,000 square feet of sustainable business space. Five jumbo jets could fit wing-to-wing inside the IBC.

The parkland and waterways feature bio-engineered wetland plants to prevent erosion. The landscape design will also reduce urban heat, cut pollution and help to fight the effects of climate change.
Press Enquiries: 020 7211 2210
Out of hours telephone pager no: 07699 751153
Public Enquiries: 020 7211 6000
Published 27 October 2011