World news story
Hungary v Northern Ireland - Euro 2016 Qualification Fixture
Travel advice for Northern Ireland football fans travelling to Hungary for the Hungary v Northern Ireland match on Sunday 7th September 2014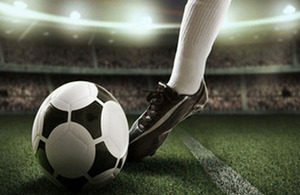 Advice for fans travelling to Hungary for the Hungary v Northern Ireland match in Budapest on Sunday 7th September
Date: Sunday 7th September 2014
Venue: FTC Groupama Arena, Budapest 1091 Budapest, Üllői út 129.
Kick off time: 18:00 (local time)
As well as this advice, check out our travel advice for Hungary.
Passports and visas
British Nationals don't need a visa to travel to Hungary, but your passport should be valid for the proposed duration of your stay. No additional period of validity beyond this is required
remember your European Health Insurance Card (EHIC) but also take out travel insurance, even if you're only going for one night - it could save you a lot of money if you get into difficulties
you must provide ID (your passport) if requested by a Police Officer. The Police have the right to hold you at a police station until your identity is confirmed
always take care of your passport, as obtaining a replacement is costly and time-consuming
Getting to the stadium
The stadium has been recently refurbished and reopened. Map to the Arena.
Make sure you validate your ticket before starting your journey (ie before you get to the platform if travelling by metro and immediately after boarding buses, trams or trolley buses). Keep your ticket until the end of your journey and show it to inspectors on request. Singe ticket (350HUF): valid for bus, tram, trolleybus, metro, cogwheel railway for entire length of the journey as well as for local suburban railways.

Direct link from the City Centre to the Stadium is via Metro line 3 (Blue Line). Deák Tér (Deak Square) metro station is only a short distance towards Kőbanya-Kispest. The stop for the FTC Groupama stadium is Népliget (6 stops)

exit the Metro station at exit G and travel a short walk along Könyves Kálmán street. Turn right onto Albert Florian Street to the entry point `E' at the stadium
At the match
gates will open 2 hours before the match starts
entrance to the stadium is by ticket only with formal picture identification document (Driving Licence, Passport etc) matching the details on the ticket. This is required by Hungarian law and failure to have these matching documents may mean refusal of entry to the stadium
Northern Ireland fans should enter the stadium through gate 'E'
fans should obey Hungarian Police instructions and avoid physical contact of any type
anyone who is obviously drunk or bearing racist insignia will not be allowed into the stadium. Also, any banners bearing political slogans will not be permitted inside the stadium
Tips
as in any other city, beware of pickpockets and bag snatchers at airports, railway stations, around the town centre and when using public transport. Only carry what you need, leave spare cash and valuables in hotel safety deposits

certain bars, clubs and restaurants in Budapest, particularly near the large hotels in the business district (V district) of central Pest, may charge exorbitant prices. Common scams include adding a 20,000 HUF (£60) surcharge per drink to the final bill or charging up to 100,000 HUF (£300) for a meal. Individuals who have been unable to settle their bills have frequently been accompanied by the establishment's security guards to a cash machine and made to withdraw funds under threats of violence. Some taxi drivers are accomplices in these frauds. They often receive a commission to recommend certain bars, clubs and restaurants to passengers. Never ask a taxi driver to recommend a bar or club. If a driver offers to take you to one, or you are approached on the street with an invitation to enter a club, treat that advice with extreme caution. As a general rule it is better to phone for a taxi from a reputable local company. Be careful in establishments where menus do not properly display prices

don't use street money changers. Take care when receiving bank notes that are no longer valid but which are still in circulation. There have been a small number of reports of taxi drivers deliberately passing these notes to tourists - as well as notes from neighbouring countries that are not valid in Hungary

do not leave your drink unattended
Contact the British Embassy in Budapest
British Embassy, Budapest 1051 Harmincad utca 6.
Telephone +36-1-2662888 (also for out of hours emergencies)
Office hours: Monday to Tuesday and Thursday to Friday: 09.30 to 12.30. Wednesdays CLOSED.
For more information please visit the British Embassy's website
Emergency services numbers
The local emergency services contact number is 112
Further information:
The Irish Football Associaton's website
Hungarian Football Association
Published 28 August 2014