Hundreds of grassroots sports clubs share in over £16m Olympic legacy boost
Olympic medallist Louis Smith's gymnastics club among hundreds of sports groups receiving Sport England investment.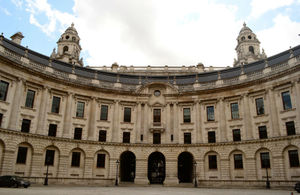 In total £16.6 million of National Lottery funding has today been awarded to 310 projects across England, taking the number of local communities supported by Inspired Facilities to more than 1,000 - a year ahead of schedule.
The investments will bring big improvements to local facilities including new playing surfaces, floodlights and better changing rooms.
The fund is part of Sport England's Places People Play Olympic and Paralympic legacy programme. All improved facilities will carry the London 2012 Inspire mark, celebrating their link to the Games.
Sport England's Chief Executive, Jennie Price, said: "We have had such a fantastic response from sports clubs to Inspired Facilities that we've reached our target of making 1,000 grants a year early. Demand remains strong so will offer a further £20 million of funding over the next 15 months."
Sports Ministers Hugh Robertson, today joined Sport England and members of the medal winning Team GB Hockey Team at a sports club in Barnes, London that has secured £50,000 from Inspired Facilities to fund a multi-use games area for hockey and netball. 
"Six months on from the start of the London 2012 Games, we have extremely strong foundations in place for the sports legacy," said Robertson. "The Places People Play programme goes from strength to strength and this £16.6 million investment will improve facilities at local sports club across the country, encouraging participation and giving people more opportunities to get involved in sport."
Olympic bronze medallist Louis Smith said: "I owe so much of my success to this club so I'm thrilled to hear they're receiving lottery funding. These improvements will help the club do even more for local gymnasts and I know they have big plans for the future."
Six months on from the Games
Today's milestone is further evidence of the steps being taken to build on the momentum of 2012:
Seven of the projects that are benefiting disadvantaged young people have been awarded a total of £95,571 in additional funding from the Thomas Cook's Children's Charity, Sport England's partner for Inspired Facilities.
Future funding rounds
Bids to the next round of Inspired Facilities will be accepted between 4 March - 29 April 2013. Full details of the fund and how to apply.
Further information
Published 24 January 2013