News story
Hundreds enter Brathay Apprentice Challenge 2015
The contest to be the apprentice team of the year is now underway, with 700 apprentices entering the Brathay Apprentice Challenge 2015.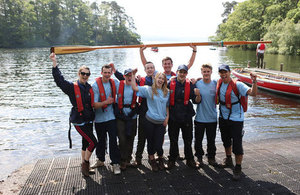 Supported by the National Apprenticeship Service, Brathay Apprentice Challenge competitors will compete over the next few months to prove they have the best team building, logistical, leadership and community skills to claim the title. The winning team will be announced in July 2015.
Sue Husband, Director of the National Apprenticeship Service, said: "The Brathay Apprentice Challenge attracts a wide range of organisations year on year and gives them a chance to develop the skills of their apprentices by pulling them out of their comfort zones.
"The skills that the apprentices learn not only benefit themselves, but also their organsiations by creating a workforce that has excellent team building, logistical and communications abilities. These skills can be transferred to the workplace as well as helping apprentices reach the higher positions in an organisation."
For more information on the Brathay Apprentice Challenge, visit www.brathay.org.uk/challenge.
Published 9 January 2015