World news story
Human Rights Council, Geneva : UK Statement on Libya, 28 March 2014
United Kingdom statement on the adoption of Item 10 resolution on technical assistance for Libya in the field of human rights.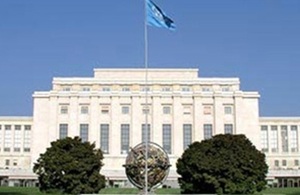 Thank you Mr President.
The UK welcomes the adoption of the resolution on technical assistance for Libya in the field of human rights.
Libya's positive engagement during the negotiations process was testimony to their commitment to improve human rights in their country. We would also like to pay tribute to Morocco for their efforts during the negotiations.
Mr President,
We believe it is important to recognise the progress that Libya has made in the three years since the fall of Qaddafi. There have been elections to the General National Congress and more recently to the Constitutional Drafting Assembly. There is also a thriving media landscape, with a multitude of independent media outlets.
Nevertheless, after four decades of misrule, significant political, security and institutional challenges remain.
Mr President,
The challenging situation in Libya means that the resolution's call for technical assistance is particularly important. We hope that all Member States will consider this call.
In addition, the UK supports the right of Libya to hold national trials for crimes committed within its jurisdiction and would like to stress that any action must be taken in line with the decisions of the International Criminal Court. In this regard, we would encourage Libya's full cooperation with the Court on the Saif al-Islam Qaddafi and the Abdullah al-Senussi cases.
Thank you, Mr President.
Published 31 March 2014