World news story
Human Rights Council, Geneva : UK Statement, General Debate, 27 March 2014
From:

Part of:

Published:

27 March 2014
This was published under the 2010 to 2015 Conservative and Liberal Democrat coalition government
The United Kingdom aligns itself with the statement made by the European Union.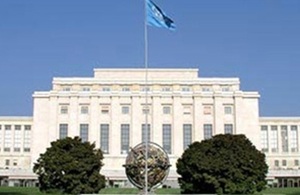 Thank you Madame Vice President
We align ourselves with the statement made by the EU.
The UK welcomes recommendations made by Yemen's National Dialogue Conference and underscores that these must be quickly implemented, including those that relate to human rights in the new constitution and legislation. Not least as significant human rights violations continue in Yemen, such as the use of the death penalty for juvenile offenders which is prohibited under Yemeni law. The UK urges the Government of Yemen to thoroughly and impartially investigate human rights violations by Government forces, such as the army's shelling of a funeral gathering in al-Dali' in 2013.
We will continue to support Libya as it attempts to lay the foundations for transitional justice and national reconciliation. We recognise the serious challenges facing the Libyan authorities and applaud Libya's continued, constructive engagement with the Human Rights Council.
We welcome steps taken by the Government of Bahrain to address human rights concerns, including through implementation of the recommendations of the Independent Commission of Inquiry and the Universal Periodic Review. We continue to encourage the government to build on this and ensure the remaining recommendations are implemented. We welcome OHCHR's technical mission and encourage the Government to continue to enhance its cooperation with the UN, including through visits by UN officials and Special Rapporteurs.
The UK urges the Government of Haiti to further protect members of vulnerable groups, including the LGBT community and people at risk of sexual violence. We also encourage increased efforts to strengthen the rule of law, and ensure access to justice for all.
The UK attaches great importance to impartial justice for all affected by human rights violations in Cote d'Ivoire. We support the work of the International Criminal Court to hold alleged perpetrators of crimes against humanity accountable for their actions, regardless of their political, regional, religious or tribal affiliations. We welcome the decision of the Government of Cote d'Ivoire to transfer Charles Blé Goudé to the ICC and we urge all sides to intensify their efforts to combat impunity.
Mr President,
We welcome Colombia's plans for a national human rights policy and her efforts to address impunity and tackle sexual violence. We also value the work of the OHCHR office in Colombia and strongly support renewal of its mandate this summer.
The UK welcomes the renewed operations by the AU Mission in Somalia, with support from the Somali National Army, which have resulted in the liberation of several towns in Western Somalia from Al Shabaab. As operations progress it is important that the Federal Government of Somalia and the international community support stabilisation efforts to ensure successes are not reversed. We welcome the Federal Government's continued commitment to finalise and implement their human rights roadmap.
Thank you Madame Vice President