World news story
Human Rights Council 38: Violence Against Women
This UK Statement was delivered during the 38th Session of the Human Rights Council during the Clustered Interactive Dialogue with Special Rapporteur on Violence Against Women, held on 20 June 2018.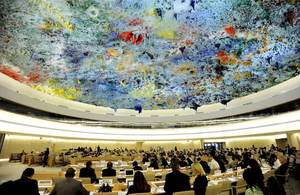 The United Kingdom thanks the Special Rapporteurs for their presentations. We wish to direct our comments to the Special Rapporteur on Violence Against Women. The prevalence of Violence Against Women and Girls is one of the most systemic and widespread human rights issues of our time. It is one of the greatest barriers to women's and girls' education and empowerment and the achievement of gender equality worldwide. The costs are far reaching: it limits the potential of individuals, families, communities and economies.
The eradication of sexual and gender-based violence, including online violence, and the ending of all harmful practices including Female Genital Mutilation and child- early- and forced marriage are essential to achieve gender equality.
The UK is at the forefront of international efforts to end these practices. UK support has reached over 750,000 girls since 2015 with schooling initiatives, skills training and girls' clubs to prevent and respond to child marriage; and since 2013, our support to end FGM has helped over 24 million people commit to abandon the practice. The British Foreign Secretary has argued that gender equality is not simply a 'woman's concern' but the responsibility of everyone. Working together, we know that violence against women and girls can be prevented.
What is the Special Rapporteur doing to engage men and boys in tackling gender inequality and ending the harmful practices that continue to hold women back?
Published 20 June 2018