World news story
Human Rights Council 38: The Rights of Women
This UK statement was delivered at the 38th Session of the Human Rights Council during the annual discussion on the human rights of women held on the 22 June 2018.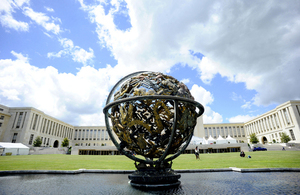 The United Kingdom very much welcomes this discussion on advancing women's rights through access and participation in information and communication technologies (ICTs).
Women have actively shaped the modern world, inventing and laying the foundations for some of the most important advances in technology. However, there is a global gender gap in terms of women and girl's access to technology and internet use, and their participation in the tech industries. We know women and girls in the poorest countries are almost a third less likely to have access to the internet than men. Even when women and girls do have access to ICT they too often suffer violence, harassment and discrimination online.
Developing economies often struggle to realise the benefits of the digital economy because of limited internet connectivity, lack of digital skills, and ineffective governance and regulation of the internet.
Women and girls could benefit substantially from digital access, but are often left behind. Gender inclusion in ICTs can play an important role in their ability to pursue quality education and fulfil their potential in political, economic and social life. We are committed to increasing opportunities for at least 12 years of safe and quality education for all and to dismantling the barriers to girls' and women's quality education. We need to share evidence and best practice to ensure the huge opportunities of technology benefit everyone equally.
What examples can the panel give of how the private sector has helped girls access education and how can this be built on?
Published 22 June 2018