World news story
Human Rights Council 38: Internally Displaced Persons (IDPs)
This UK statement was delivered at the 38th session of the Human Rights Council during the Panel on Internally Displaced Persons (IDPs), held on 26 June 2018.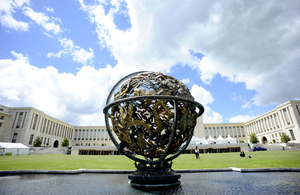 At the end of 2017, over 40 million internally displaced persons had been driven from their homes by armed conflict, generalised violence or human rights violations. The vast majority are in situations of protracted displacement and many are likely to be displaced again. Millions are condemned to live in precarious conditions, without access to education, the hope of meaningful employment or sustainable livelihoods, and often alongside equally vulnerable host communities.
This year marks the 20th anniversary of the Guiding Principles on Internal Displacement. We have an opportunity to turn much needed international attention to the plight of the internally displaced. We must seize this moment to make real progress to improve outcomes for IDPs.
In Syria, the IDP population is over 6 million. In DRC, IDP numbers almost doubled in a year to 4.4 million at the end of 2017. In Iraq there are over 2.6 million internally displaced people, and in South Sudan, almost 2 million. In all these cases, where people have been driven from their homes, violent conflict has been the driver of displacement. It is crucial that Governments, with international support, take action to provide safe and durable solutions for IDPs.
The UK is committed to working to improve outcomes for internally displaced people. We will continue to oppose violations of International Humanitarian Law which drive displacement. In addition to our core multilateral funding, we support bilateral programmes for IDPs in a number of contexts, from the Democratic Republic of Congo to South Sudan and Syria.
Fundamentally, IDPs should not have to wait until a crisis is fully resolved before they begin to rebuild their lives. Let us harness the 20th anniversary to make concrete progress, including through the GP20 action plan and lay the foundations for a brighter future for IDPs and their host communities.
Published 26 June 2018