World news story
Human Rights Council 38: Freedom of Expression and Summary Executions
This UK statement was delivered at the 38th session of the Human Rights Council during the Interactive dialogue with UN Special Rapporteurs on Freedom of Expression and on Summary Executions, held on 20 June 2018.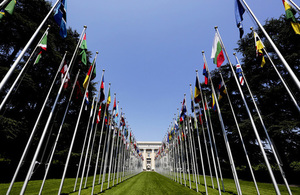 Today we are discussing the right to Freedom of Expression. I therefore want to take this opportunity to pay tribute to the role that the United States has played in establishing and upholding this right at home and abroad, since it was introduced as the First Amendment to the constitution of the US in 1789.
So it is a matter of great regret for the UK that the US has decided to withdraw from this Human Rights Council of the United Nations. We have lost a member who has been at the forefront of liberty for generations. While we agree with the US on the need for reform, our support for this Human Rights Council remains steadfast, and we will continue to advance the cause of reform from within its ranks.
The United Kingdom emphasises its support for the work of the Special Rapporteur on extrajudicial, summary or arbitrary executions and thanks her for her work on these issues. The UK is clear that States have the responsibility to meet human rights obligations for all including the right to life. We strongly condemn the use of extra-judicial and summary executions, and welcome the Special Rapporteur's report.
Freedom of Expression is fundamental to the fulfilment of the broad range of human rights. It contributes to security and creates prosperity. It supports democracy by holding those in power to account and giving a voice to the powerless. Yet it is under attack in all parts of the world, and in all forms – online and offline.
In his excellent and balanced report, the Special Rapporteur rightly refers to the "opaque forces" which are restricting freedom of expression. Some of these forces are not so opaque; we know who they are. In Russia, restrictive laws and website blocking have increased the pressure on independent media since 2012. TV channels are state-run propaganda machines, journalists have been detained, and more and more bloggers arrested for their views. Physical attacks on journalists go unpunished. Reporters Without Borders consider Chechnya and the illegally annexed Crimea to be news "black holes from which little news emerges".
We would welcome the Special Rapporteur's views on how best to challenge such restrictive behaviour, online and offline.
Published 20 June 2018