Human Rights Council 38: Central African Republic
This UK statement was delivered at the 38th session of the Human Rights Council during the Interactive Dialogue with Independent Expert on Central African Republic, held on 4 July 2018.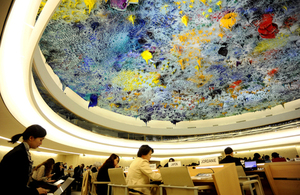 The United Kingdom welcomes the Independent Expert's report and appreciates her ongoing work on the human rights situation in CAR.
The UK strongly condemns the attacks last month on 9 humanitarian compounds. This has only increased the suffering of an already struggling civilian population.
We are also alarmed by the recent increase in violence in CAR that has led to a wave of reprisals. The attacks by armed groups on places of worship, including mosques and churches, are of particular concern. These attacks, and the growing sectarian rhetoric, are dangerously exacerbating tensions between Muslim and Christian communities.
The UK recognises efforts by the CAR government and the international community on Disarmament, Demobilisation and Reconciliation. The need for tangible progress is now urgent if the spread of conflict is to be prevented. As such, we greatly regret the lack of genuine engagement by the armed groups to find a lasting peaceful solution. We urge members of the African Peace Initiative to renew their efforts to end the perpetual cycle of violence in CAR.
The UK welcomes the significant progress made by the Special Criminal Court whilst appreciating the numerous challenges which still lie ahead. The fight against impunity remains essential if the people of CAR are to reconcile, achieve a sense of justice and see peace and stability in CAR.
Mr President,
We would like to ask the Independent Expert for a sense of progress on Disarmament, Demobiliastion and Reconciliation since her last report.
We would also welcome her advice on what we can all do to support the CAR government in tackling the growing sectarian violence.
Published 4 July 2018