World news story
Human Rights Council 38: Burma
This UK statement was delivered at the 38th session of the Human Rights Council during the Interactive Dialogue with the Special Rapporteur on Burma.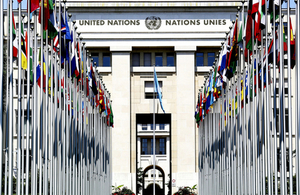 The United Kingdom thanks the Special Rapporteur for her update, and looks forward to her report to the General Assembly later this year.
From 29 April to 1 May, the UK co-led a visit by the UN Security Council attended by Permanent Representatives. The Council pushed for independent investigations into allegations of human rights violations to hold perpetrators to account, as well as full implementation of the Annan Commission recommendations.
Since then, Burma has signed a Memorandum of Understanding with UN agencies and announced a domestic Commission of Inquiry, with an international component. The successful implementation of both initiatives remains inherent to any progress being made.
We share the concerns expressed by the Special Rapporteur in her report to the Council in March over the escalation of violence in Kachin, Shan, Karen/Kayin and other conflict affected States. We strongly support her call for a thorough, impartial and credible investigation taking place regarding what has happened in Rakhine state.
We take note of her proposals for a mechanism on accountability and we urge the Government to accelerate its domestic efforts on accountability with international support. Further consideration will be given to this proposal after we hear from the Fact Finding Mission in September.
Madame Special Rapporteur,
How can the international community ensure justice for all ethnic groups?
What steps can the international community take to support faster progress on the peace process?
Published 27 June 2018