World news story
Human Rights Council 37: UK statement under Item 10
This UK statement was delivered at the 37th session of the Human Rights Council during the discussion of Item 10, held 22 March 2018.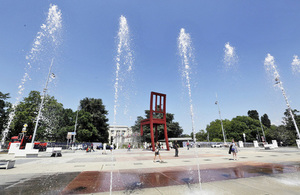 We welcome the Government of Sudan's international engagement on human rights, including through the UK-Sudan Strategic Dialogue. However, we are deeply concerned about newspaper seizures and the detention of hundreds of citizens, including members of the political opposition, journalists and activists, for exercising their right to freedom of expression. We condemn the security service's use of violence against peaceful protests and continue to call for the detainees' immediate release. Systemic changes are needed, including reform of the National Security Act, Public Order Laws, and judicial system. We urge the Government to cooperate fully with the Independent Expert.
We commend Georgia for its constructive cooperation and its openness to discuss its human rights challenges and accept international assistance, including valuable support from the OHCHR office in Tbilisi. OHCHR staff require further access to undertake vital work in Abkhazia and South Ossetia to protect human rights, including on unconstitutional detention and the treatment of civilians whilst in detention. Freedom of movement between the communities is increasingly restricted. Accessing native language education, and obtaining documents to exercise civil, cultural, economic, political and social rights is increasingly difficult. We call for unhindered access for international organisations and monitors to all parts of Georgia.
Finally, as we mark the 70th anniversary of the Universal Declaration of Human Rights this year we must hold fast in our minds the principle that human rights are "the foundation of freedom, justice and peace in the world". The Office of the High Commissioner plays an essential role in preventing and addressing violations of these rights, and flagging risks that can culminate in some of the unspeakable atrocities we have discussed in this Chamber during this session. The UK thanks the Office for its work and strongly encourages all States to engage fully with the Office and with this Council.
Published 22 March 2018