Human Rights Council 37: UK Statement on Freedom of Religion or Belief
This UK statement was delivered at the 37th session of the Human Rights Council during the Interactive Dialogue with the Special Rapporteur, 2 March 2018.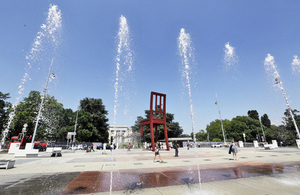 The United Kingdom would like to thank the Special Rapporteur on Freedom of Religion or Belief for his report, which helpfully focuses on State-religion relationships and their impact on freedom of religion or belief.
Last year, the UK Prime Minister Theresa May reiterated the British government's commitment to "stand up for the freedom of people of all religions to practice their beliefs in peace and safety". We are actively working with a range of faith leaders, civil society and international partners to take this work forward.
We believe that states have an important role in protecting and defending Freedom of Religion or Belief including the right for individuals to practice or change their faith, or indeed to have no faith. States must tackle discrimination, intolerance and persecution on the basis of a person's religious identity and foster greater respect for and between religious communities – being intolerant towards intolerance.
We are deeply concerned by the growing level of violations against members of minority groups, including the Ahmadiyya Muslims, Christians, Jehovah's Witnesses, Shia Muslims, Baha'is amongst others. The UK continues to fight for the right to freedom of religion or belief, and greater tolerance and respect for all.
States must lead the way in protecting and strengthening the rights of persons belonging to religious minorities, and in building tolerant and respectful societies. What more can States do, to best create conditions for this? For strong policies to tackle discrimination, we need robust evidence. How can the international community work together to gather data on violations to Freedom of Religion or Belief, so that together we can protect and defend the rights of all?
Published 2 March 2018