World news story
Human Rights Council 37: UK National Statement under Item 2
This UK Statement was delivered at the 37th Session of the Human Rights Council during the discussion under Item 2, held on 8 March 2018.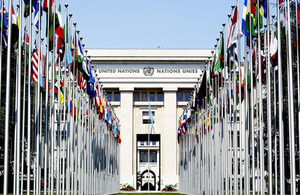 We are concerned by post-election violence in Honduras and urge the authorities to investigate these incidents. We welcome the government's commitment to prioritise human rights, the establishment of a Human Rights Ministry and UN efforts to broker a political dialogue.
The situation in the DRC is deeply troubling with reports that violations and abuses are increasing, and that State actors are the main perpetrators. We call on the DRC as a Council member to demonstrate commitment to the highest human rights standards by reversing these alarming trends.
We are extremely concerned by the situation in Israel and the Occupied Palestinian Territories, including the treatment of Palestinian minors in Israeli military detention. Settlement expansions, demolitions of Palestinian property and proposed legislation to extend Israel's sovereignty beyond the Green Line are highly concerning and we urge Israel to halt these practices.
We urge Thailand to deliver credible, inclusive elections in line with international standards as soon as possible. We call for gradual restoration of freedom of expression and assembly, including the lifting of restrictions on political parties and space for civil society organisations to function.
We are increasingly concerned by worsening restrictions on freedom of expression in Vietnam. Peacefully expressing views on issues of public interest should not constitute a criminal offence and all citizens should be allowed to express their views freely and without persecution.
In the Philippines, we are concerned by proposed steps to limit freedom of expression, including increased restrictions on the media; threats against Human Rights Defenders; and shrinking space for political opposition. We urge the Government to ensure thorough investigations into all deaths associated with the campaign against illegal drugs.
Finally, we share concerns about recent inter-communal violence in Sri Lanka. We support the government's determination to end it swiftly, using measures that are proportionate and respect human rights, and urge it to hold the perpetrators to account.
Published 8 March 2018