World news story
Human Rights Council 37: Torture and Situtation of Human Rights Defenders
UK statement for the Clustered Interactive Dialogue with the Special Rapporteur on torture and other cruel, inhumane or degrading treatment or punishment; and the Special Rapporteur on the situation of human rights defenders, delivered 1 March 2018.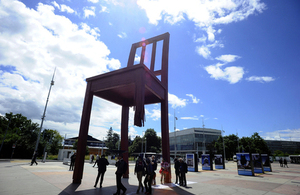 The UK thanks the Special Rapporteur on torture for his report. We remain committed to supporting the eradication of torture and cruel, inhuman or degrading treatment, wherever it may occur. We are also long-standing supporters of the Optional Protocol to the Convention against Torture and will continue to encourage those who have not signed up to the protocol to do so. We congratulate Madagascar for its ratification last year.
The UK welcomes the mention of National Preventative Mechanisms in the report from the Special Rapporteur, and we are keen to continue our support. What further steps do you envision States taking to implement them?
The UK also welcomes the report of the Special Rapporteur on human rights defenders. Earlier this week, UN Secretary General Guterres said, 'These individuals and organizations are our eyes and ears and conscience'.
It is therefore unacceptable that, according to NGO data, 312 human rights defenders were killed in 2017, and hundreds threatened or detained. While progress is being made with legislation to protect human rights defenders in some States, more must be done. The UK has itself recently updated its Guidelines on Working with Human Rights Defenders to help our diplomatic community better support them.
Mr Forst, what action would you like to see from States in this 20th anniversary year of the UN Declaration on Human Rights Defenders to better support them?
Published 1 March 2018