World news story
Human Rights Council 37: Resolution on Right to Food
This UK statement was delivered during the 37th session of the Human Rights Council during discussion on the Resolution on the Right to Food.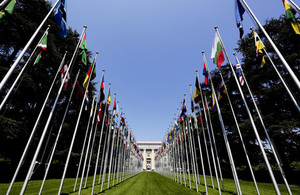 I have the honour to explain the position of the United Kingdom on draft resolution entitled "Right to Food".
The UK continues to recognise economic, social and cultural rights as defined in the International Covenant on Economic, Social and Cultural Rights, and we remain committed to fulfilling our obligations under the Covenant.
The UK government has been giving effect to the Covenant through a combination of legislation and administrative measures, with the aim of achieving progressively the full realisation of the rights recognised in the Covenant. The Covenant is not however incorporated into domestic law, and Article 2 of the Covenant does not require States Parties to do so. The UK government considers that its method of implementation of the Covenant fulfils the UK's obligations under Article 2(1).
Notwithstanding these issues, we support the Resolution.
Published 23 March 2018