World news story
Human Rights Council 37: Human Rights in South Sudan
This UK statement was delivered at the 37th Session of the Human Rights Council during the Interactive Dialogue with the Commission on Human Rights in South Sudan, held on 13 March 2018.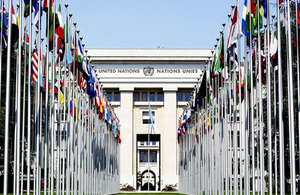 The UK thanks the Commission on Human Rights in South Sudan for its important work over the past year. We welcome the Government of South Sudan's willingness to cooperate.
Your most recent report makes for shocking reading.
Last year, this Council struggled to comprehend the extraordinary levels of violence that have been inflicted on civilians throughout South Sudan. We are dismayed that, one year on, the situation has worsened.
The Commission's most disturbing finding has been that some violations may amount to war crimes and crimes against humanity.
Despite the Government's commitments, a culture of impunity prevails that allows these violations to continue. We echo the Commission's deep regret that the Government continues to delay the implementation of the Hybrid Court for South Sudan. This is unacceptable.
The First Vice President has assured this Council that the Government of South Sudan is unreservedly committed to the protection of human rights; but the Government's behaviour undermines that assurance. We urge the Government to demonstrate that their commitment is genuine, and establish the Court as soon as possible.
We call on South Sudan's leaders to work towards peace through the High Level Revitalisation Forum. But it must be made clear, to all parties, that human rights violations cannot continue. We strongly urge Member States to renew the Commission's mandate, so that those responsible for these violations can be held to account for their crimes.
What more can the region and the international community do to ensure that critical evidence of human rights violations and abuses is not lost?
Published 13 March 2018