World news story
Human Rights Council 37: High Level Panel on Mainstreaming, Universal Periodic Review
UK statement delivered during the High Level Panel on Mainstreaming, delivered on 26 February 2018.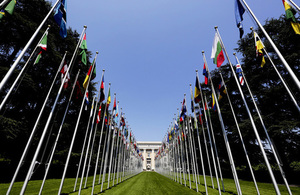 Four weeks from now, I hope that we will reflect on a successful Council session.
I also hope that we will take time to think through how best to translate what we have agreed into meaningful action.
Our words must not live and die in this chamber, stifled within an isolated Geneva bubble.
We must ensure we translate our commitments into something tangible.
This takes political will and often international, coordinated and coherent cooperation between states, international organisations and civil society.
Which is why we are rightly celebrating the success of the Universal Periodic Review. It can – potentially - bring together many of the bodies needed to promote and protect human rights and to promote sustainable peace and development.
The UPR sits amongst a number of human rights tools though it has particular value for the UN system as states have already gone on record to commit to take forward a range of human rights measures. This provides a unique and excellent entry point for the UN system to work in partnership with states.
Therefore how can we systematically ensure UPR recommendations, alongside relevant recommendations from treaty bodies and special procedures, are used by the full range of UN agencies when developing their country specific plans?
"Small deeds done are better than great deeds planned". Whilst clearly we must remain ambitious in our desire to promote and protect human rights, we must also make good on our rhetoric. Which is why as we move through the third cycle of this UPR, I hope we will also move away from measuring success by the number of recommendations supported and move towards celebrating implementation.
Published 26 February 2018