World news story
Human Rights Council 37: Children and Armed Conflict
This UK statement was delivered at the 37th Session of the Human Rights Council during the Interactive Dialogue with the Special Representative of the UN Secretary-General for Children and Armed Conflict, held on 6 March 2018.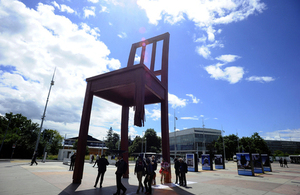 I thank Ms Gamba for her report and her efforts on the Children and Armed Conflict mandate, for which she has the full support of the UK Government.
The UK remains hugely concerned by the grave violations that continue to be committed on a worrying scale with children being abducted, killed and maimed, and recruited and used as child soldiers throughout the many conflicts taking place around the world.
We call on all parties that have not put in place measures to improve the protection of children to do so as a matter of priority through the agreement and implementation of UN Action Plans, and calls on those parties who have put measures in place to honour their commitments in full.
We also recognise that during these times of crises it is more important than ever to ensure children have access to an education. In conflict zones alone, girls are two and a half times more likely to be out of school than boys. This is why the UK Foreign Secretary has made quality education and learning for girls, one of his top foreign policy priorities.
Finally, we are deeply alarmed by the increasing number of reported cases whereby humanitarian access is being denied to areas of conflict. Ms Gamba, in light of this, I would welcome your thoughts on ways we could hold perpetrators to account, and whether there is an appetite to review how the committing of this grave violation may act as a trigger for listing in future annual reports.
Published 6 March 2018