World news story
Human Rights Council 36: Working Group on Arbitrary Detention
This right of reply was delivered at the 36th session of the Human Rights Council during the Interactive Dialogue with the Working Group on Arbitrary Detention on 13 September 2017.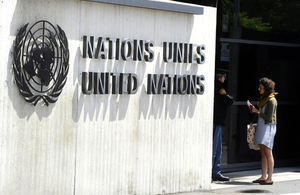 On 28 November 2016, the Working Group on Arbitrary Detention rejected our request for a review of its February 2016 opinion. The UK has a close working relationship with UN bodies and is committed to upholding the rule of law and the rules-based international system. However, we completely reject the opinion of the Working Group and are very disappointed that they would not review their deeply flawed and incorrect position. Julian Assange is not, and has never been, arbitrarily detained in the UK and his continued presence in the Ecuadorean Embassy is entirely self-inflicted.
Mr Assange is free to leave the Ecuadorean Embassy at any time but he will be subject to UK law.
Published 14 September 2017