World news story
Human Rights Council 36: The Integration of a Gender Perspective
This UK statement was written for the 36th session of the Human Rights Council's Annual Discussion on Integration of a Gender Perspective on 15 September 2017.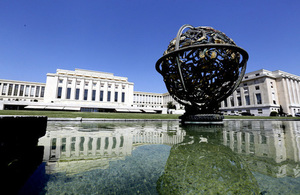 The UK welcomes today's discussion. The SDGs commit all of us to ensuring all women and girls can meet their potential. Their universal and transformative agenda addresses the underlying causes of gender inequality and answers the call to action to 'Leave no-one behind'.
Our responsibility now is to translate our commitments into tangible change for women and girls and ensure that gender is systematically integrated into delivery of the 2030 Agenda. Failure to do so will undermine the achievement of every SDG.
The UK's pioneering 2014 Gender Equality Act makes consideration of gender equality a legal requirement in all of its development and humanitarian assistance. The UK seeks to consciously and consistently deliver on gender. We are committed to ensuring that women and girls have equal voice and rights, can play a leadership role in society, have control over their own bodies and decision-making, have improved access and control over resources, and live free from violence. We are supporting millions of girls to complete their education and to transition to the workplace.
The Universal Periodic Review can play an important role to help spur governments to address gender inequalities in their countries, facilitate the sharing of best practice, and make action-oriented recommendations that will improve the lives of women and girls across the globe. We urge the UN to ensure its systems are gender responsive and to be a champion of gender parity in the global workplace.
How does the panel think the UPR and the SDG agenda can best support wider representation of women, and attention to gender issues in national human rights institutions?
Published 15 September 2017