World news story
Human Rights Council 36: Resolution on Yemen
This statement was delivered during the discussion of the Resolution on Yemen at the 36th session of the Human Rights Council on 29 September 2017.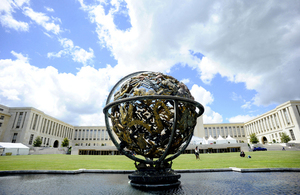 The UK is deeply concerned by the deplorable human rights situation in Yemen where abuses and violation continue on a large scale. The humanitarian situation is also deeply worrying – much more needs to be done by us all to fully fund the UN appeal, to which the UK is the second largest donor. Moreover, there is an urgent need for a political solution to bring peace to Yemen which is so desperately needed. The international community made this clear through the UN Security Council Presidential Statement of 15 June.
The UK supports international efforts to ensure that alleged violations of human rights are properly investigated, and that accountability is possible. That's why we strongly supported the Human Rights Council resolution last September, which enhanced the OHCHR operation to both increase the technical assistance provided to the Yemeni National Commission of Inquiry, and which enhanced OHCHR's investigative capacities.
The human rights situation in Yemen over the past 12 months has clearly not improved. Opinions about who bears most blame differ widely. What we should be agreed upon – and what today's consensus resolution represents – is our total agreement on the need to improve the situation for Yemenis, on the ground. This will involve an important international element, and it will also involve continued support for the Yemeni National Independent Commission of Inquiry. Enabling the investigation of alleged abuses at the national level in Yemen is essential for long term accountability, supported by today's international mechanism.
The UK is adamant that international law should be respected in this conflict, and all conflicts. Allegations of abuses on all sides have been deeply worrying. We have been clear that all violations and abuses of human rights and any violations of IHL are unacceptable and we reiterate this again today. However, the HRC, whose mandate is the promotion and protection of human rights, rather than IHL, is not the most appropriate mechanism for looking at IHL issues. Moreover we strongly believe that where states are carrying out credible – I stress credible – investigations of alleged IHL violations themselves, they should be allowed to do so.
We welcome the agreement of an impactful, single consensus resolution on the human rights situation in Yemen. This has been a priority for the UK. This text is a significant achievement with the potential to make a real difference for Yemeni people. We will work tirelessly at the highest levels - and, with all partners in this room - to ensure it is fully implemented.
Published 29 September 2017