World news story
Human Rights Council 36: Resolution on Syria
This UK statement was delivered during the voting on the resolution on Syria at the 36th session of the Human Rights Council on 29 September 2017.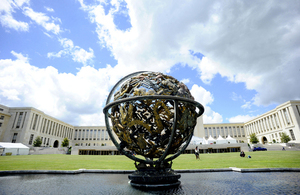 The UK presents this resolution on the human rights situation in Syria on behalf of a group of states: France, Germany, Italy, Jordan, Kuwait, Morocco, Qatar, Saudi Arabia, Turkey, the UK and the US.
We are presenting this text as, sadly, the human right situation in Syria remains dire. We, the Human Rights Council, must take a strong and unified stance on this situation.
As the most recent Commission of Inquiry report carefully details, violations and abuses of human rights remain widespread. In particular, we are concerned about the repeated attacks on civilians and civilian infrastructure, as well as on medical personnel and facilities. Such attacks are not only contrary to international law, but cause untold suffering for the innocent victims caught up in such attacks.
It is the civilians throughout the country who shoulder the impact of the Syrian conflict, and, as the Commission of Inquiry highlighted, it is children and internally displaced persons who remain among the most vulnerable to violence.
It is with this in mind that we have included in this resolution a request for a high level panel on the human rights situation faced by children in Syria. Syria's children are the next generation – they are the future of Syria – they must live with the consequences of this catastrophic conflict, and we must do all we can to end the abuses and violations both they, and the wider population, face.
Not only must we call for an end to these actions – but there must also be accountability. For this reason, we continue our strong support for the Commission of Inquiry, and the International, Impartial and Independent Mechanism.
We have made a concerted effort to consult widely on this text, and to address concerns raised by colleagues representing states and civil society in this room. We hope that these efforts will allow Council members to put aside our differences and give this text the full support it deserves.
Mr President, the human rights situation in Syria remains desperately serious. We hope that, in a show of support for the people of Syria, this resolution can be adopted by consensus.
Published 29 September 2017