World news story
Human Rights Council 36: Resolution on Somalia
This statement was delivered to introduce the Resolution on Somalia at the 36th session of the Human Rights Council on 29 September 2017.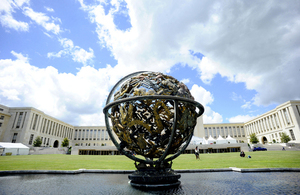 The UK is once again pleased to be working with Somalia, and a group of supportive states known as the friends of Somalia, to renew the mandate of the Independent Expert on human rights in Somalia.
Somalia's recovery from 25 years of conflict is continuing and it has made welcome progress towards upholding human rights and in strengthening its political processes. Somalia rightly deserves our recognition and our continued support. The resolution before us today does exactly that. It renews the mandate of the Independent Expert. It calls for support to Somalia's institutions to build a stable, peaceful and prosperous state. It stresses the essential need to continue our support for security sector reform.
And it pulls no punches in recognising that many human rights challenges do remain. Again, we should commend the credible approach and steps Somalia is taking to recognise these issues – as can clearly be seen in this resolution.
Finally, the resolution looks to build bridges between the work we do in Geneva and regional and international efforts to support Somalia, for example building on some of the important outcomes of the recent London Somalia Conference.
It's clear we must all continue - and strengthen – our combined support to Somalia. This resolution does exactly that and I count on your support.
Published 29 September 2017