World news story
Human Rights Council 36: Human Rights in Libya
This UK statement was delivered at the 36th session of the Human Rights Council during the Interactive Dialogue on the High Commissioner's Oral Update on Libya on 27 September 2017.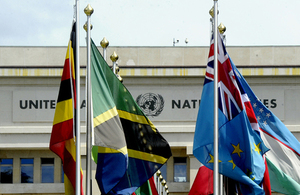 The UK thanks the High Commissioner for his oral update. We welcome Libya's continued commitment to work with OHCHR and cooperate with this Council and its mechanisms.
The UK remains deeply concerned by continuing human rights violations and abuses committed with impunity across Libya, including against migrants. We are alarmed by reports of extra-judicial killings of detained combatants, including at Brak al Shati and multiple incidents around Benghazi. The increase in kidnappings,, gender based violence and restrictions to civil and political freedoms, and the rise in hate speech and political intimidation of some national minorities, is a troubling trend. While we fully support Libya's fight against terrorism, such operations must not have a detrimental humanitarian impact on civilians.
The work of OHCHR and of human rights defenders is crucial towards ensuring scrutiny and accountability. In this regard, we welcome the International Criminal Court's recent arrest warrant against Mahmoud al Werfalli.
Clearly, there is no military solution to the situation in Libya and the people of Libya deserve a peaceful and stable future. The UK fully supports the efforts of Special Representative Ghassan Salamé, to facilitate a political solution. As well as our support for peace mediation and stability, we are providing support to improve conditions in detention facilities, and for women's rights, civil society, municipalities, and freedom of speech.
We would like to ask for an update on the progress arising from the March resolution - which Special Procedures mandate holders will visit and when?
It is important that this happens without delay, to maintain international pressure in support of efforts to hold perpetrators to account.
Published 27 September 2017