World news story
Human Rights Council 36: Human Rights in Central African Republic
This UK statement was delivered at the 36th session of the Human Rights Council during the Interactive Dialogue with the Independent Expert on the Central African Republic on 28 September 2017.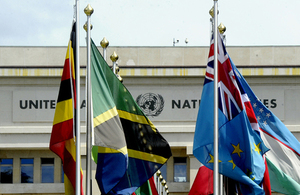 The UK thanks the Independent Expert for her report on the CAR. The UK is alarmed at the increase in human rights abuses due to the resurgence of violence between armed groups. Of particular concern is the reported deliberate targeting of civilians by armed groups, in some cases based on ethnicity or religion. The UK is also disturbed by reports of an increase in sexual violence against women and children as well as the resurgence in recruitment of child soldiers.
The continued violence has seen massive numbers of displaced people without access to basic humanitarian needs. We urge the international community to provide essential assistance to the people of CAR to prevent the onset of a humanitarian crisis. The UK welcomes the progress made towards establishing the Special Criminal Court but encourages the CAR government to ensure the court becomes operational as a matter of priority. The fight against impunity remains key to bringing peace and justice to the people of CAR.
The UK continues to support President Touadera's ongoing prioritisation of Disarmament, Demobilization and Reintegration but urges the CAR government and the international community to work together to expedite peace and reconciliation efforts.
We would like to ask the Independent Expert: What immediate steps can the international community take to move the process of Disarmament, Demobilisation and Reintegration forward and support the CAR government in achieving a cessation of hostilities?
Published 28 September 2017