World news story
Human Rights Council 36: Resolution on Enforced Disappearances
This explanation of vote was delivered during the voting on the resolution on enforced disappearances on 28 September 2017.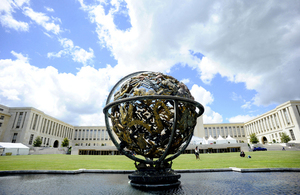 This amendment does not reflect the UN Charter – this wording does not appear in the UN Charter.
What does appear in the UN Charter, which this amendment ignores, is the mandate of the United Nations to promote universal respect for, and observance of, human rights and fundamental freedoms for all.
This amendment puts sovereignty above international human rights law and international law obligations which is simply wrong. States cannot use their sovereignty to justify violations of international human rights law.
The UN Charter is now referenced in the first PP of this resolution; and the resolution also does not call on countries to change their legal systems – which this amendment implies. Not only therefore is this amendment wrong in principle but it also has no relation to this resolution.
We will vote "no" to this amendment and call upon all Member States of the Council to do the same.
Published 28 September 2017