World news story
Human Rights Council 35: UK statement under Item 4
This UK statement was delivered at the 35th session of the Human Rights Council during the discussion under Item 4 on 15 June 2017.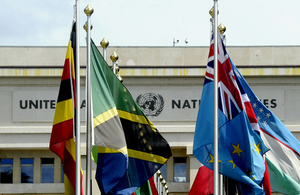 Deteriorating human rights in eastern Ukraine and the worsening situation in Crimea since Russia's illegal annexation is deeply troubling. Russia must allow access to international human rights organisations.
We are seriously concerned about mass detention, torture and killings of LGBT persons in Chechnya. The Russian authorities must carry out thorough investigations, bringing those responsible to justice.
The UK condemns the constant appalling violations and abuses of human rights in Syria, where the regime's repression and violence against civilians is fuelling war, suffering and extremism.
We condemn last week's terrorist attacks, and offer condolences to Iran and the Iranian people. We remain concerned about the death penalty, weak rule of law and restrictions on freedoms of expression, religion and belief. We welcome the Special Rapporteur's renewed mandate.
We are increasingly concerned about the deteriorating situation in the Democratic Republic of Congo, and serious human rights violations in the Kasai region and the East of the country.
Egypt's new NGO law is the latest restriction on civil liberties. Detention and prosecution of politicians, journalists and human rights defenders are deeply troubling, as is recent blocking of news websites.
We call on China to release those detained for peacefully exercising constitutional rights. We remain concerned about restrictions to civil and political freedoms, including minority rights, and freedoms of expression and religion.
We are deeply concerned about human rights violations in the Democratic People's Republic of Korea, and urge the regime to halt all activity that breaches Security Council Resolutions and to promote human rights.
We are seriously troubled by ongoing human rights violations in Burundi and the Government's refusal to engage with international human rights bodies to end violence and oppression, particularly considering the High Commissioner's statement about HRC members' obligations.
We are deeply concerned about ongoing conflict and widespread human rights abuses in South Sudan. We urge the government to cooperate fully with the Commission for Human Rights in South Sudan.
Published 15 June 2017