World news story
Human Rights Council 35: Item 10, supporting technical assistance and capacity building
This UK statement was delivered at the 35th session of the Human Rights Council during the discussion of Item 10 on 21 June 2017.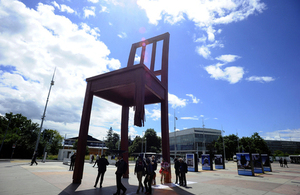 The UK thanks OHCHR for its vital role in supporting technical assistance and capacity building. We encourage all States to engage fully with OHCHR and the mechanisms of this Council.
In our most recent statement under this item in March, we informed the Council of our intention to host an international conference on Somalia, which took place in May. The UK welcomes the commitments to human rights in Somalia made by Somali authorities and international partners at the London Somalia Conference. A number of these commitments relate to supporting security forces and institutions to provide protection in accordance with international humanitarian and human rights standards. However, despite these positive commitments, we remain concerned by serious human rights abuses and violations in Somalia, including the use of children in armed conflict and sexual violence. We urge the new Government to strengthen human rights protection systems and the capacity of institutions to tackle a culture of impunity and ensure accountability for violations.
We also welcome the Georgian government's human rights strategy and look forward to seeing progress on implementation. We remain concerned about the humanitarian situation in the breakaway regions of Abkhazia and South Ossetia and continue to call for access for international organisations to both regions.
We welcome the delisting of the armed forces of Côte d'Ivoire in the Secretary General's latest report on conflict-related sexual violence. We encourage the Government of Côte d'Ivoire to remain focused on this important issue.
Finally Mr President, whilst this Council must continue to address violations of human rights and to prevent serious violations from happening, we should also make better use of item 10 to recognise where states have successfully implemented their commitments stemming from Geneva-based human rights mechanisms. We should recognise and learn from these experiences. As such we look forward to continuing the UK Colombia initiative "A Race to the Top" over the course of this year.
Published 21 June 2017