World news story
Human Rights Council 35: General Comment on Resolution on Ukraine
This statement was delivered by the UK on the Resolution on Ukraine during the 35th Session of the Human Rights Council on 23 June 2017.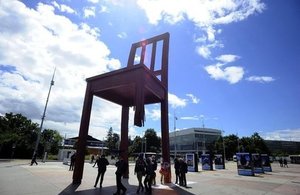 The UK welcomes Ukraine's constructive engagement with this Council. We talk much in the Council about the benefits for those with difficult human rights challenges in receiving outside assistance and, when needed, reporting and discussion of their human rights situation.
In recent years, Ukraine has set a fine example for open engagement with both this Council and with OHCHR in the country. No other state has invited such a high level of attention. Over the past 12 months, Ukraine has participated openly and constructively in four HRC debates allowing an open and frank discussion on their human rights challenges at the HRC. We recognise that it is not easy to open up for such scrutiny and discussion on the human rights situation in one's country on a regular basis and we commend Ukraine for its willingness to discuss its situation so openly.
In the draft we have before us, Ukraine asks for the continuation of OHCHR assistance to their country in the field of human rights, including OHCHR assessments and regular debates at the HRC, for another two years. We welcome Ukraine's wish to extend the assistance for another two years - a clear demonstration of their commitment to improving their human rights situation and of their willingness to find long-term solutions. We recognise that there is an important added value from the cooperation and technical assistance provided to Ukraine, the objective reporting from the OHCHR, and the public debates on the human rights situation.
This is a situation where a state voluntarily comes to the HRC and asks for cooperation and assistance on their own country situation. A situation where the country concerned opens up to discuss their challenges, seeking to improve their human rights situation. For this positive and constructive approach Ukraine truly deserves the full support and recognition of this Council.
The UK has co-sponsored this draft. We urge all members of the HRC to join us in supporting Ukraine's request for assistance and cooperation.
Published 23 June 2017