World news story
Human Rights Council 35: Côte D'Ivoire
This UK statement was delivered at the 35th session of the Human Rights Council during the discussion under Item 4 on 20 June 2017.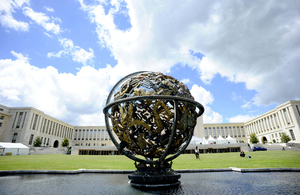 The United Kingdom welcomes the Independent Expert's report and thanks him for his tireless efforts. We appreciate his reflections on progress made, especially in the context of the closure of United Nations Operation in Côte D'Ivoire (UNOCI).
We recognise that the report reflects the very good level of access the government of Côte d'Ivoire has afforded the Independent Expert and United Nations Special Representative for the Secretary-General (UNSRSG), Aïchatou Mindaoudou.
We welcome the progress made by the Forces Armeés de Côte d'Ivoire to combat sexual violence, resulting in their removal from the list of organisations cited in the Secretary-General's report, presented to the Security Council last month, on conflict related sexual violence. This achievement is of particular note as it is the first delisting since the position of the Special Representative on Sexual Violence in Conflict was created by the Security Council in 2012.
It is clear from the reports produced by the Independent Expert and his predecessor that the Government of Côte d'Ivoire, supported by UNOCI's Human Rights Division, has taken effective action in many areas. However, the recent military and civil service protests and strikes have shown how fragile the progress can be. We encourage the government to implement the Independent Expert's recommendations. We would welcome an update on implementation in due course.
Finally, UNOCI's closure means the departure of its Human Rights Division, which has played a key role during - and importantly, between - the Independent Expert's visits. We would like to ask the Independent Expert how he thinks member states can best provide human rights support to Côte d'Ivoire following UNOCI's departure?
Published 21 June 2017