World news story
Human Rights Council 35: Burma
This UK statement was delivered at the 35th session of the Human Rights Council during Interactive Dialogue with the Special Rapporteur on Burma on 15 June 2017.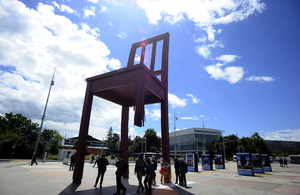 The United Kingdom thanks the Special Rapporteur for her update today and looks forward to her report to the General Assembly in September.
In March, the UK was among the main sponsors of HRC resolution 34/22 which acknowledged the progress made by the Government in its first year, but also expressed serious concerns over alleged conflict- related human rights violations including in Kachin, Shan and Rakhine states.
Since then, credible by-elections and the second round of the Panglong peace process have been held. However, the environment for freedom of expression continues to be challenging, and we share the Special Rapporteur's concerns over hate speech. While we note the authorities' efforts to curb incitement to discrimination, hatred and violence, there is still a long way to go.
The UK supported the establishment of the Fact Finding Mission and remains concerned about credible allegations of human rights violations. We were also concerned by the Military investigation Commission's rejection of the allegations in the OHCHR's flash report: they claimed that 12 of the 18 allegations were false and the remaining 6 exaggerated. We call for the Rakhine Investigation Commission's full report to be a credible demonstration of the government's commitment to an impartial investigation. We also urge the government and the military to cooperate fully with the Fact Finding Mission.
How can the international community support Burma to balance freedom of expression with curbing incitement to discrimination, hatred and violence?
Published 15 June 2017