World news story
Human Rights Council 34: Universal Periodic Review of Venezuela
From:

Part of:

Published:

16 March 2017
This statement was delivered during the 34th session of the Human Rights Council on 16 March 2017.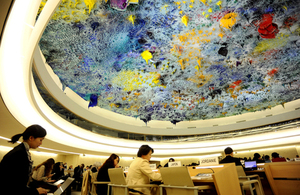 The United Kingdom continues to be concerned by developments in Venezuela, particularly the political, economic and security challenges. We urge all sides to engage in constructive dialogue, whilst respecting the Venezuelan Constitution, democratic liberties and the independence of State powers.
The UK strongly supports the rules-based international system. We therefore hope that Venezuela will take meaningful action in response to the UPR process. We are disappointed that Venezuela has not been able to support either of the recommendations made by the United Kingdom. We hope that Venezuela will reconsider its position and will engage in a constructive dialogue with the National Assembly, with agreed outcomes on economic and governance challenges by July 2017. We also continue to urge the Venezuelan Government to issue an early invitation to the Office of the High Commissioner for Human Rights for an official visit.