World news story
Human Rights Council 34: Universal Periodic Review of the Central African Republic
From:

Part of:

Published:

21 March 2017
This statement was delivered during the 34th session of the Human Rights Council on 21 March 2017.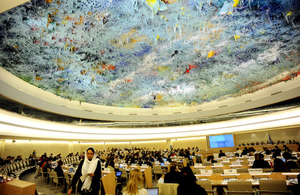 We welcome the opportunity to discuss the current human rights situation in the Central African Republic (CAR).
Last year successful, peaceful and credible elections were a positive step forward following years of crisis. However, we remain gravely concerned by the deteriorating security situation; the latest violence in CAR is the worst the country has experienced since 2014.
This instability continues to affect the human rights of the people of CAR. Incidences of arbitrary killings, kidnappings, and conflict-related sexual violence – perpetrated primarily by armed groups – persist.
Therefore our primary objective for CAR must be to work towards ending impunity; this will require the effective implementation of the National Recovery and Peacebuilding Plan (RCPCA) in particular the elements of the plan which will facilitate robust Disarmament, Demobilisation and Reintegration (DDR) and Security Sector Reform (SSR).
The unrelenting violence has also impacted the humanitarian situation. 2.2m people are currently in need of assistance, with roughly 420,000 internally displaced. This represents a worsening trend yet the Humanitarian Response Plan remains significantly underfunded.
Can the Independent Expert tell us what progress she has observed on DDR implementation since her last report?
The UK sees effective implementation of the RCPCA as a crucial step in breaking the cycle of conflict and violence in CAR: Can the Independent Expert tell us whether the funds pledged at November's donor conference have materialized? Have the funds begun to be used in pursuit of the Plan?