World news story
Human Rights Council 34: Universal Periodic Review of Syria
This statement was delivered during the 34th session of the Human Rights Council on 16 March 2017.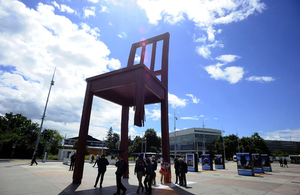 We remain appalled at the critical humanitarian and human rights situation in Syria. The regime continues to enforce siege and starvation tactics by obstructing the delivery of humanitarian aid.
The freedoms of expression, opinion and peaceful assembly remain severely restricted. Arbitrary detention, torture and other cruel, inhuman and degrading treatment of civilians continue to occur as obligations under the Convention against Torture (CAT) and International Convenant on Civil Political Rights (ICCPR) are disregarded.
The UK notes the regime's promise to consider implementing some UPR recommendations, but given its track record, we are sceptical of its sincerity.
The Syrian regime should immediately end violations of international human rights and international humanitarian law; end enforced disappearances, torture and other cruel inhuman and degrading treatment of civilians; release prisoners of conscience; and fully implement every UPR recommendation it has supported.
To achieve lasting peace in Syria the regime must engage constructively in the UN led negotiations to achieve transition to an inclusive, representative and democratic government.
Published 16 March 2017