World news story
Human Rights Council 34: UK statement under Item 10 (Technical Assistance and Capacity Building)
This statement was delivered during the discussion on Technical Assistance and Capacity Building at the 34th session of the Human Rights Council on 23 March 2017.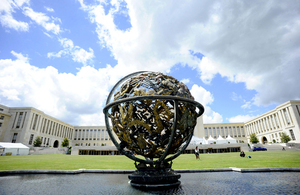 The UK thanks OHCHR for their vital role and encourages all States to engage fully with them and this Council.
We welcome the presidential election in Haiti, and the President's commitment to address human rights challenges. We are disappointed that renewal of the Independent Expert's mandate looks unlikely, and encourage the new government to work closely with OHCHR and partners to implement the IE's recommendations.
We welcome Cote d'Ivoire's cooperation with their IE. Following protests earlier this year, we do however encourage the Government to implement plans to build a professional security force.
We acknowledge the Government of Guinea's efforts to improve human rights, including the national reconciliation action plan and the new Criminal Code. We would welcome a Government investigation to ensure full accountability for violence in Conakry in February, which led to seven deaths.
In Cambodia, we continue to advocate for a peaceful and fair electoral process and encourage the Government to create the necessary conditions for genuine electoral competition.
The UK welcomes the arrests made by the DRC government over the alleged shootings of civilians by Government forces in the Kasai region. We urge government investigations to hold those responsible to account.
We are concerned about the lack of progress on the Peace and Reconciliation Accord in Mali and call on all parties to combat violent extremism and create a less permissive environment for terrorist groups and other organised crime networks.
We welcome Libya's commitment to engage with this Council and their support for a resolution to tackle impunity given continued conflict and a deteriorating humanitarian situation. Libya's divisions must be settled peacefully by political means through the Libyan Political Agreement framework.
Finally Mr President we would like to inform colleagues of our intention to host an international conference on Somalia in the spring.
Published 23 March 2017