World news story
Human Rights Council 34: UK statement on the human rights situation in South Sudan
From:

Part of:

Published:

14 March 2017
This statement was delivered during the Interactive Dialogue with the Special Rapporteur on the situation of human rights in South Sudan on 14 March 2017.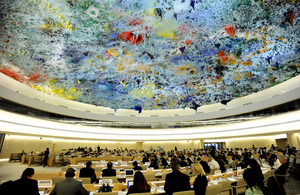 The UK thanks the Commission on Human Rights in South Sudan for its work over the past year and its recently circulated report. We also welcome the South Sudan government's willingness to cooperate with the Commission's work.
However, we find ourselves here, a year on from agreeing the Commission's mandate, still unable to comprehend the extraordinary levels of violence inflicted on non-combatants by all sides of the conflict. Civilians have been caught up in a conflict which is year-on-year plunging South Sudan into further turmoil. Women and children, the most vulnerable in society, bear the brunt of sexual and gender-based violence, rapes, and what appear to be ethnically motivated killings. But just as shockingly, this is perpetrated and directed by people who have so far not been held to account.
The Commission is right in its report to focus on the lack of accountability for crimes committed against normal people.
Amnesties encourage perpetrators to repeat their crimes.
Hate speech fuels more violence.
Obstructing humanitarians needlessly causes more deaths.
Those responsible for such actions must be held accountable.
The UK supports the call by the Commission for an independent mechanism to collect, preserve and analyse evidence of human rights violations and abuses. Given the continued delay in the establishment of a Hybrid Court, this is vital: people's memories fade over time and evidence becomes less reliable. We call on the AU and the Transitional Government in South Sudan to work together to establish this necessary mechanism as soon as possible.
First and foremost, however, the fighting simply has to stop and the people treated with dignity and respect.