World news story
Human Rights Council 34: UK statement on the human rights situation in North Korea
This statement was delivered during the Interactive Dialogue with the Special Rapporteur on the situation of human rights in Democratic People´s Republic of Korea (DPRK) on 13 March 2017.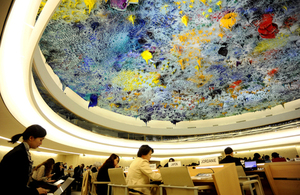 The United Kingdom thanks the Special Rapporteur for his recent report on the Democratic People's Republic of Korea. We welcome his support for the recommendations made in the Group of Independent Experts' report on accountability. The UK supports further work to develop their findings and hopes the Special Rapporteur will take this important task forward.
The UK remains deeply concerned by the DPRK's human rights record. The DPRK has shown that it values its nuclear and ballistic missile programme ahead of the safety and welfare of its own people. Among many human rights violations, the rights to freedom of expression, movement, freedom of religion or belief and the right to a fair trial are still denied to DPRK citizens; and there are ongoing reports of arbitrary detention, torture, execution and rape.
We are also concerned at reports of the forced labour of DPRK citizens both within the DPRK and beyond its borders. The UK is committed to ending modern day slavery wherever it occurs.
We urge the DPRK to take steps to end these systemic human rights violations and engage with the international community. In addition, we call on the DPRK to allow international human rights monitors free and unhindered access to their country.
Mr Special Rapporteur,
What more can the international community do to maintain pressure on the DPRK regime and how do you evaluate the prospect of dialogue?
Published 13 March 2017